Welcome to the home of black sacks!
BlackSacks.co.uk is the online home of black sacks, bringing you all the bin bags, refuse sacks, bin liners and waste sacks you could possibly need. If it's black, made of polythene and helps clear up rubbish from the home, garden or workplace, this is the place to find it.
Here at Black Sacks we've got every type of bin bag and refuse sack you might need, from ultra-light economy black sacks to ultra-thick heavy duty waste sacks and Polymax builders' rubble sacks, plus every type of black bin bag in between.
We don't just stop at black sacks either and no bag will be left out on the basis of colour alone. It doesn't matter if it's black, white, green, blue, red, brown or even clear polythene - if it's a good quality bin liner, recycling sack or specialist waste bag that gets the job done, it's in!
BlackSacks.co.uk is a division of Polybags - the UK's number one polythene manufacturer - which means we have hundreds of thousands of black sacks in stock waiting to send to you today. With a no-quibble guarantee and fast, free delivery across most of the UK, what are you waiting for? It's time to get back to black!
Black sacks - more than just a bin bag
Black sacks are synonymous with clearing up waste. Used to line the inside of a dustbin or waste container to collect rubbish, these familiar black plastic sacks have been used as the primary means of waste collection and disposal for decades.
Black bags have been lining the bins of family homes for generations, but their uses are far more wide-ranging. Black sacks are also used for heavy duty waste removal on building sites and in gardens, for biodegradable rubbish disposal and more specialist waste disposal.
Produced in various shapes and sizes, black bags can also be used for safe storage of items and for posting important or confidential items in black security mailing bags.
Black waste bags - now available in colour!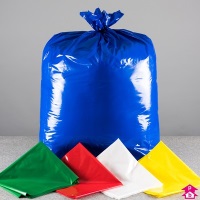 The world of fashion is always claiming that this colour or that colour is 'the new black'. Well now the world of bin bags is going the same way!
Once the sole domain of the solid, dependable, reliable, black sack, waste disposal has now branched out to include a range of coloured bags. Available in green, blue, red, white or yellow, these sacks will not only brighten up your day, but they allow homes and businesses to categorise their waste, offering a simple and effective visual reminder when separating different types of waste.
Of course, how you categorise your waste is up to you. There is no hard and fast rule about what waste must go in what colour sack. If the only people that need to know your system are in-house (i.e. members of your work team or family) then you can develop a colour system that suits you.
However, if your local waste collection team relies on colour categorisation for different types of waste, then it is essential that you check this system and match your bags with the relevant types of waste. Mistakes will not only waste people's time, but they could have potentially hazardous knock-on effects (e.g. if handling clinical waste or asbestos) and, if your waste disposal team imposes penalties for incorrect disposal of waste, it can ending up costing you financially.
Some common uses of coloured waste disposal bags are as follows:
Green - general recycling, garden waste, food waste
Blue - general recycling, food waste
Red - asbestos, sharp waste
Yellow - clinical waste
White - clothes, linen
Remember: Always check your colour scheme with your local waste disposal team (e.g. local council) or employer before leaving coloured waste sacks for collection.
Bin bags - back to black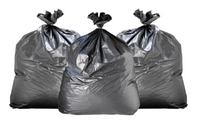 Bin bags are used to collect waste, rubbish or garbage. They are usually placed inside a small- to medium-sized bin or some other receptacle to line the inside of the bin and prevent it from getting covered by the rubbish itself. Once the bin is near to full, the bin bag can then be removed from the bin and transported from the bin to a larger dustbin or wheelie bin, ready for collection by the relevant waste disposal team (e.g. the local council).
If a wheelie bin or outside dustbin is not available, bin bags can be placed outside on the street for collection. In this situation the solid, non-transparent properties of a black bin bag are particularly useful, as it ensures that nosey neighbours and passing members of the public do not get to snoop on your household waste by merely casting a cursory glance at your rubbish bag.
Bin bags are not exclusively black, but it is the most common colour used for general waste disposal. Recycling or food is often collected in bags of other colours, but general household waste is predominantly collected in black bags. The main reason for this is that rubbish isn't very pretty to look at and the dark covering provided by a black bag means that you don't have the unsightly vision of a pile of rubbish on display. This is particularly helpful if the bin bag is being used indoors but without a receptacle surrounding it.
Using a black bin bag in this manner has its advantages, as you can generally fit more into the bag when it is sitting loose on the floor, rather than contained in a bin. However, this approach is inherently risky as any rips or holes in the bag can expose one's floor to contamination by bin juice - one of humankind's most unpleasant and, as yet, largely unexplained discoveries.
If you use your bin bags inside a bin, then it is a good idea to use a bin bag that is slightly larger than the bin itself. This way you reduce the risk of over-filling your bin and, when you remove the bag, the rubbish will spread out, reducing the risk of the bag ripping and the toxic bin juice escaping.
Turn up the volume - bin bag stats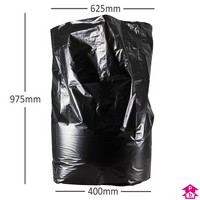 Bin bags are commonly sold in rolls of 10, 20, 50 or 100 bags. The bags are flattened and folded in on themselves to approximately one-third width and attached via a perforated link, allowing easy tear away from the roll.
A roll of 100 x 50 litre bin bags is no bigger than a rugby ball or American football. However, when unrolled and filled, this roll can cater for up to 5,000 litres or cubic metres of waste. That's a load of rubbish!
Bin bags also come in a range of thicknesses to suit the job that they are required for. Ultra-light bags can cater for light materials like paper shredding, while the toughest bags can cope with rubble and bricks, for example.
The thickness of a polythene bag can be told by its gauge - a measurement related to the SI measurement of microns or micrometres.
Ultra-light bags start at around 80 gauge (20 microns) while the toughest bags can measure up to 1,000 gauge (250 microns). Those at the lower end of the scale will tear or puncture relatively easily if weighed down excessively, whilst the thickest bags will not tear easily at all.
Of course, sharp objects such as glass can puncture polythene, particularly at the medium to lower end of the gauge range, so always be aware of what is being placed in your bag. If disposing of broken glass or crockery, it is recommended that this is first wrapped in newspaper or some other cover before throwing into a bin bag.
Ten reasons why black sacks is in the news
Details about Kitchen Hanging Rubbish Bags Holder Waste Storage Racks Cupboard Hanger
Plastic Kitchen Hanging Rubbish Bags Holder Waste Racks Cupboard Hanger~
The transport was placed into heavy duty plastic builders' sacks, a few of which were left at the scene.
For no young person to have their belongings packed into bin bags when they transport or leave foster care which can make them feel particularly worthless at what could already be a difficult time for them. Using black sacks can make young people feel that they are waste' or of small value.
Home Janitorial Waste Control Extra HD Wheelie Bin Bags 300g Case 50
The varied transport included air fresheners, tubes of toothpaste and mouthwash, washing up sponges and cans of deodorant, as well as bin liners and rubber gloves.
Wichtige Kriterien zum Kauf im Radioactive Waste Disposal Bags Test bestimmen
Wenn Sie sich nach ausfhrlichen Vergleich fr ein Modell von Radioactive Waste Disposal Bags entschieden haben, dann knnen Sie sich a den Kauf machen. Neben der Auswahl der Zahlungsart muss dafr aber auch die Lieferung stimmen. Wenn Sie eine sichere Lieferung von Radioactive Waste Disposal Bags bevorzugen, dann kommt das gewnschte Radioactive Waste Disposal Bags auch wirklich bei Ihnen an. Zumindest ist die Wahrscheinlichkeit dann sehr hoch, dass Sie sich am Ende ber die unbeschdigte Lieferung von Radioactive Waste Disposal Bags freuen knnen. Ein sicherer und gleichzeitig schneller Versand durch einen Speditionsdienst ist daher immer zu empfehlen. Auf diese Weise mssen Sie sich nicht ber verlorene Waren rgern oder mhsam den Aufenthaltsort ermitteln. Radioactive Waste Disposal Bags ist bei der Lieferung dann im besten Fall auch versichert, damit ein Umtausch bei einem Schaden mglich ist. Reklamationen knnen schlielich immer mal vorkommen und sind bei der Lieferung von Radioactive Waste Disposal Bags auch beim besten Paketdienst nicht immer zu verhindern.
Bin bags forgotten for 36 years expose North Staffordshire music scene likes
An amazing like trove of music memorabilia from 1985 has been discovered in bin bags in a town middle shop.
In a perfect world, we would change our habits and give up single-use plastics and that would be the stop of the story. Alas, we are an imperfect species, and instead of giving up things like plastic shopping bags, we only argue about them. In the meantime, material scientists are working on single-use plastics that are ostensibly less harmful to the environment. And while that's big, it's not so simple. For example, are compostable and biodegradable bags certainly compostable and biodegradable?
Davies pleaded guilty to dumping 36 black waste bags, 14 bags of recycling, and four carrier bags, all containing commercial waste and a few household waste, on land neighboring to Tonyrefail Road, south of Pontypridd.
50 x Black Grip Seal Bags 8 x 11" Plastic Reseal Plain Store 203 x 280mm PL12
Bin bag dresses rubbish Kylie's designer frock
A group of Australian students have helped to prove that the world of high-end designer fashion is a load of old rubbish.
After Aussie pop-munchkin Kylie Minogue was spotted wearing a $38,000 Dolce and Gabbana bin bag-style dress, Australian newspaper The Telegraph dubbed her 'Binouge' and challenged a group of Sydney fashion to create a dress to rival the fashion giants.
The final year students, from Sydney's Whitehouse Institute of Design, rose to the challenge, making three stylish dresses from one roll of black bin bags in just an hour per dress at a cut-price cost of $3.87 - less than 0.0001% of the infamous original.
Mariam Seddiq, who designed a ball gown, was pleasantly surprised by her new-found material.
"It's a surprisingly easy material to work with," she told The Telegraph. "You can add volume quickly and it has a crushed look we'd usually use a heat machine to create."
Get a box of Santa's favourite sacks for FREE!
We've teamed up with our parent site www.polybags.co.uk to give you an exclusive Christmas offer! Place an online order for any packaging products with us or Polybags, to get a free box of 200 Premier Quality Heavy Duty Bin Bags! Order must be for £60 or more (excluding VAT and any Delivery). Standard UK delivery is free with no minimum order for most of the UK!
Black sacks - the perfect Halloween accessory?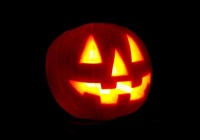 Have you left your Halloween shopping a little bit late? Got a houseful of kids wanting to create a spooky den and trick or treat costumes, but don't want to break the bank on a once-a-year event?
Black bin bags could be just the thing you're looking for!
Plastic black sacks tick all of the necessary Halloween boxes: affordable, plentiful, versatile and most importantly of all, black! Halloween is the one night where black is the new black (or is that the old black?) and you can use it for all manner of costumes and decorations.
WARNING: Children should only do this under adult supervision.
Create a witch's costume by cutting a big head-shaped hole in the bottom of an extra-large bin bag and then cut two arm-sized holes on both sides of the bag, adjacent to the base, before carefully placing your head and arms through the holes to wear it like a dress. Once you're wearing it, you can wrap two other black bin bags around your arms for the sleeves, either rolled up tight if you like slim-fit scariness or nice and baggy for the classic witch's look.
To accessorise your witch's costume, take one ultra thick black bag - we recommend minimum 350 gauge polythene - and cut a slit up the side, then roll it up into a funnel shape to make a pointy black hat. You can trim off some excess to create the hat's rim. Finally, scrunch up some ultra-light price beater black sacks and fix them with sticky tape to make your very own black cat. Witch-tastic!
Why not take a couple of extra large, extra strong black sacks, lay them end to end with the open ends together and stuff them - using cushions, towels, or any other suitable stuffing you have lying around - into the shape of a body, then fix the two open ends together so that it looks like a body bag. You can even write 'Dead Body' on the bag in Tipp-Ex or white paint, just to make sure people get the point.
You can turn your house into your very own spooky Halloween lair by taking any black sack you wish and shredding them into strips before hanging from the ceiling to make super scary drapes.
Finally, if you want to go the whole scary hog, why not make your own giant spider from black bin bags and hang it from the ceiling to scare your Halloween guests? It's easier than it sounds - just take three rolls of black sacks - economy bin bags would be best as you'll be using the lot - and roll them out fully so that they intersect in the middle, to make six legs. Then if you rip between 2-4 bags off the end of each leg - depending on the length of your roll and the size of the room - you can scrunch them together into a ball to make the body of the spider. Attach this to the intersection of the legs with sticky tape and/or staples to complete the scary arachnid. You can paint fangs and eyes onto the body before hoisting the giant spider up and hanging from the ceiling using string and tape.
If that doesn't scare the bejeesus out of your Halloween guests, we don't know what will… and all with the humble black sack!
So enjoy your costume making and decorating… and don't forget the famous old rhyme that your grandma taught you on All Hallows Eve:
"When ghouls and ghosts come out to play, black bin bags help save the day!"
Get 20% off black sacks this Christmas!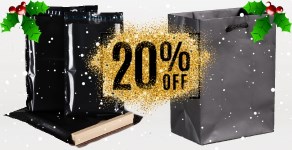 We've got some fantastic Christmas offers on black sacks for you! We've teamed up with our parent website Polybags.co.uk to give you a fab 20% off all black gift bags and black security mail sacks this Christmas.
With 20% off black mailing bags you can top up your stucks in time for those final Christmas deliveries - or get ahead of the game for the new year - whilst the black gift bags are a smart and classy way to present any Christmas gift... plus now you can buy five for the price of four!
These fantastic black sack offers can both be found in the Special Offers section at Polybags.co.uk, where you'll also find great discounts on over 60 products to get you in the festive spirit!